unwind
Vape Pen Cartridge | BLUEBERRY KUSH
Sale price

€19,90

Regular price

Incl. VAT
Ms. Soomelière, please describe: Alright, this vape cartridge with the enchanting name Blueberry Kush tastes light and mild of fresh fruits and late summer. A tangy, citrusy, berry experience with spicy, earthy undertones and floral notes. I can only contain my enthusiasm with extreme self-control. Excellent. We thank with a bow for this information and remain with a pleasant: Only in trying do we really experience the world. Feel free to write us how you liked it.
Ingredients

Cannabinoids and terpenes
Notes

Shake gently before use | Store in a dry place, cool and protected from light | Not suitable for children and adolescents | Harmful to aquatic organisms, with long-term effects | Avoid release to the environment | IF ON SKIN: Wash off with plenty of water | In case of skin irritation or rash: seek medical advice | Dispose of contents/container according to local waste regulations | May cause allergic skin reactions | Do not exceed the maximum number of puffs indicated (20 per day) | Contents are sufficient for approx. 200 puffs | If used improperly, taste may be affected and number of puffs may be reduced | Belongs in any standard handbag, trouser pocket or coat pocket
Laboratory analyses & certificates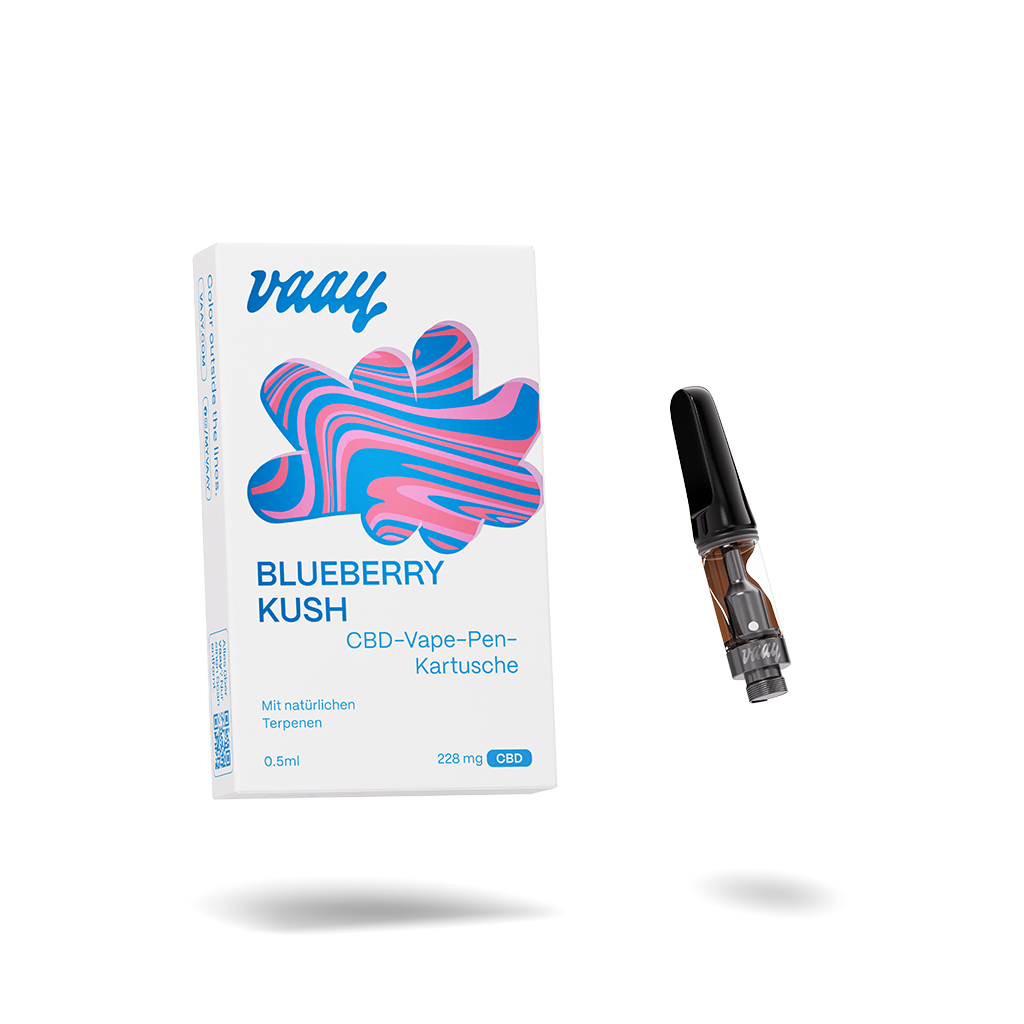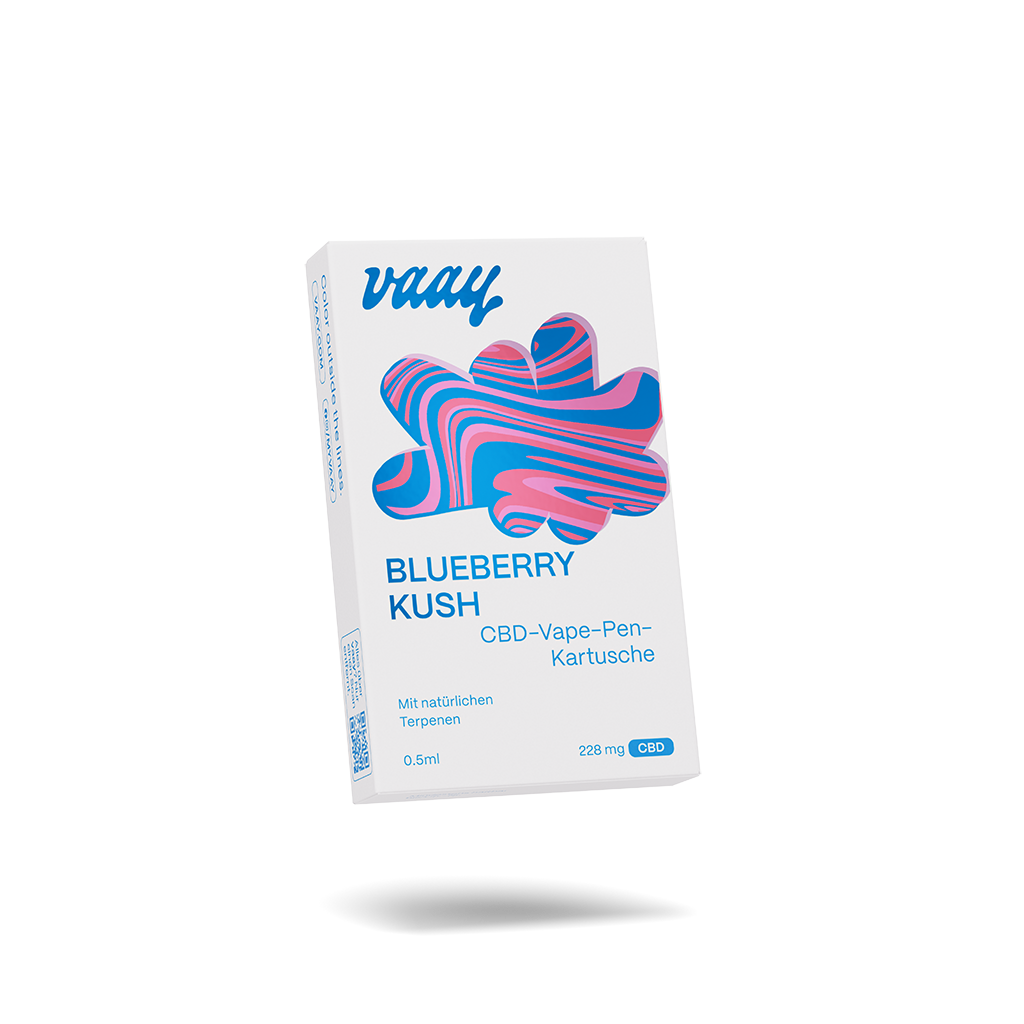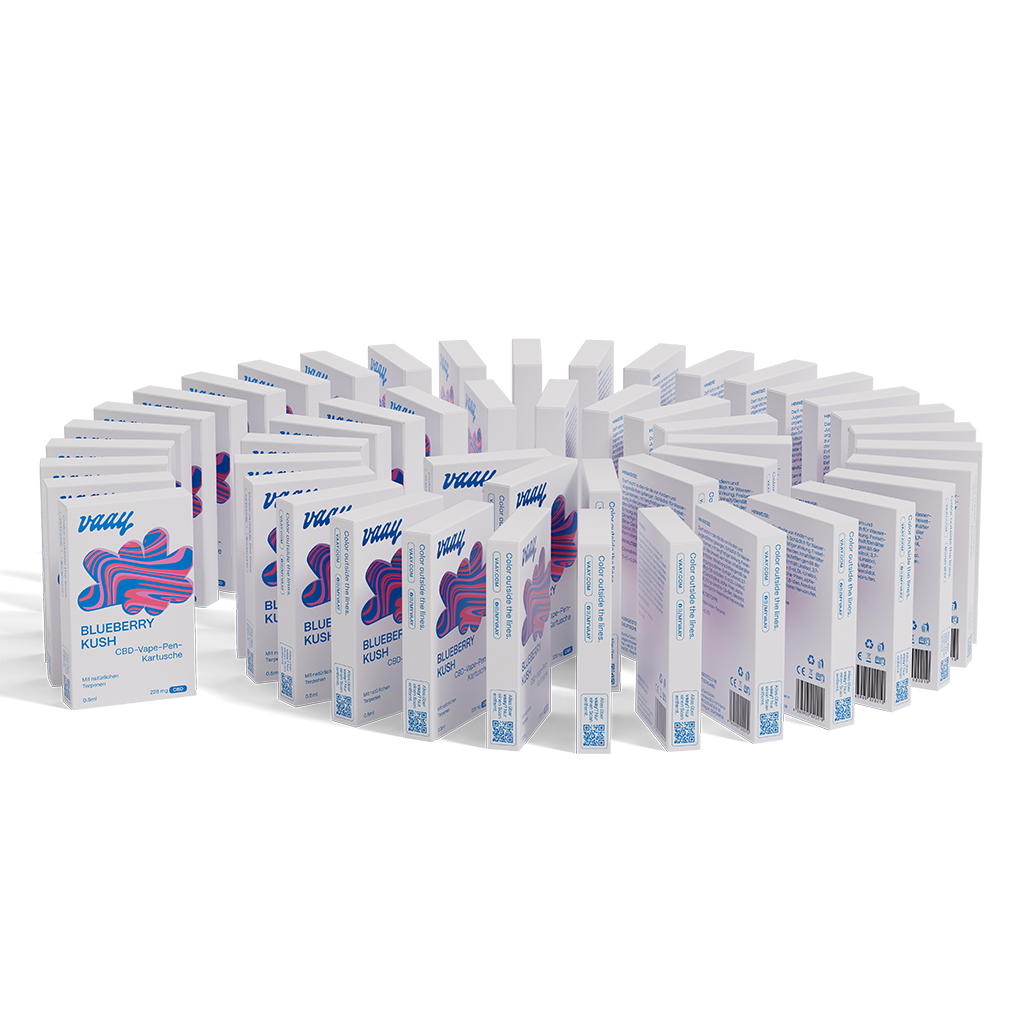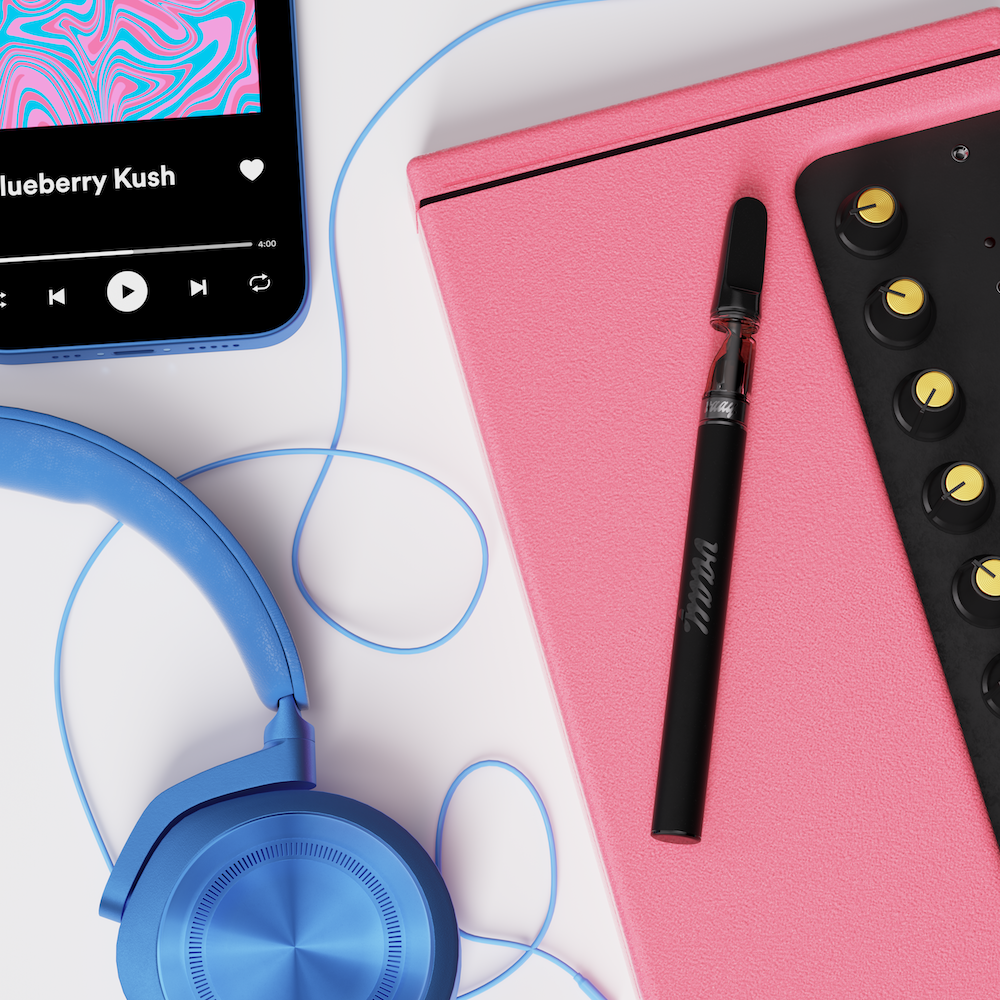 lab tested
all products are tested
no additives
only natural ingredients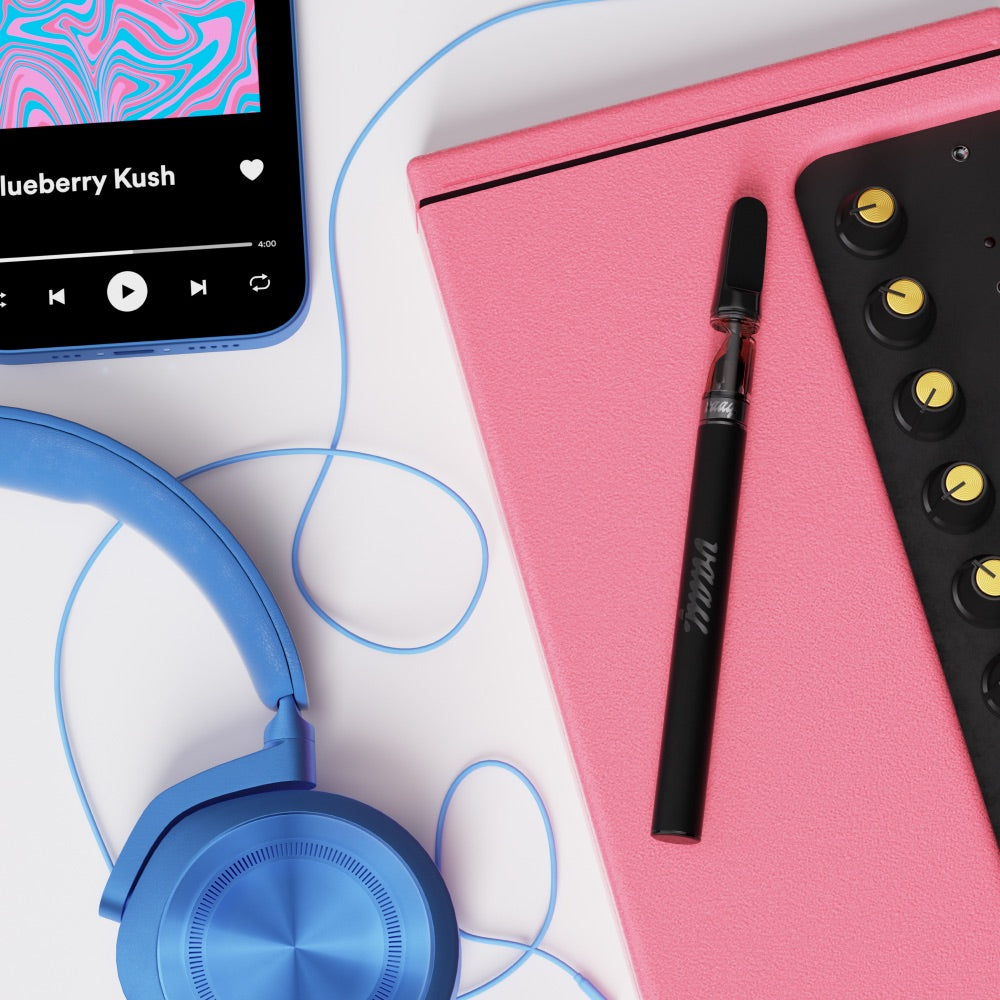 What and for whom is Blueberry Kush
What and for whom is Blueberry Kush
Blueberry Kush is a highly enjoyable vape cartridge for the vaay vape pen and a flavor journey that leads from the tangy citrusy berry overtone to the spicy earthy undertone and rounds it all off with a floral note. So actually, this should be offered in Michelin-starred restaurants. In any case, Blueberry Kush is something for all those who have no desire for tobacco. For all those who don't smoke at all, but think vaporizing is great. For all those who want to try vaporizing. For all who like the word Blueberry. And of course for all who really like to be deeply relaxed.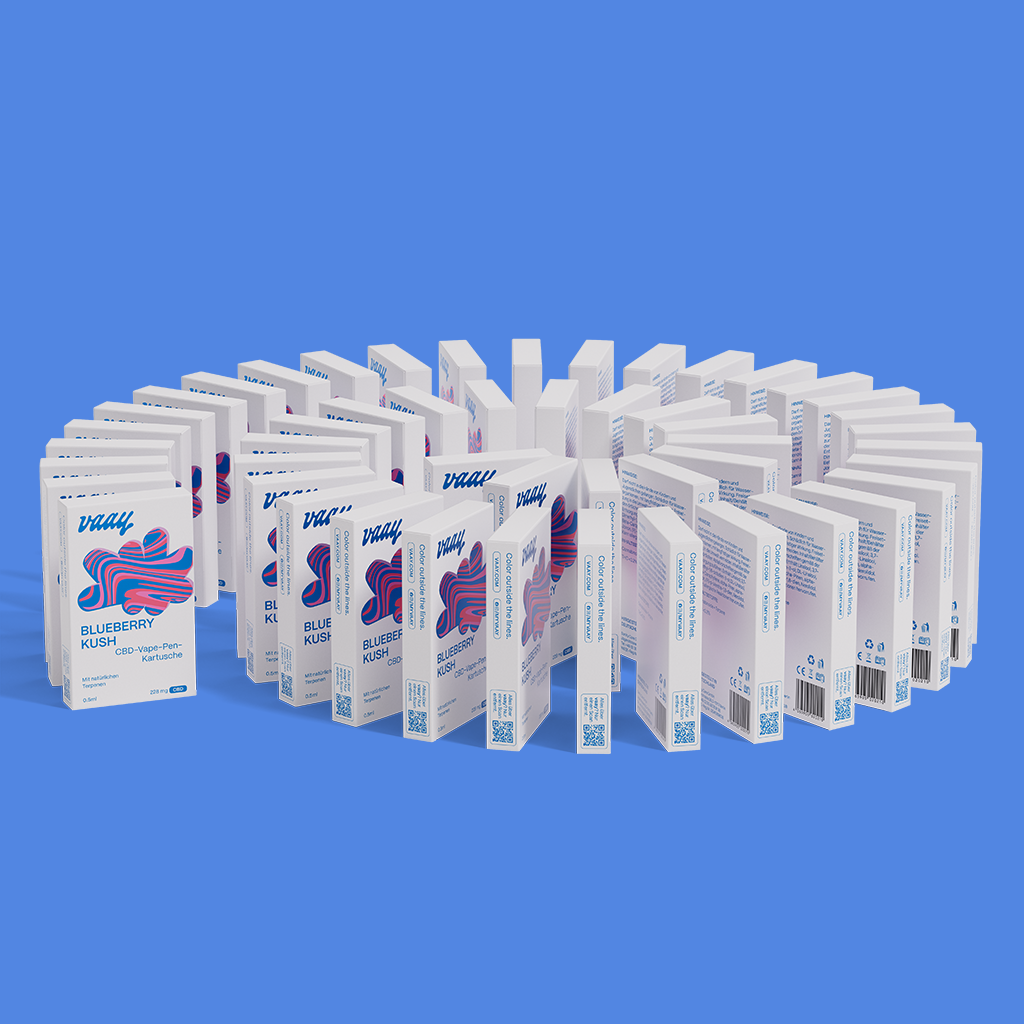 How do I use it?
How do I use it?
Simply screw the cartridge onto the vaay vape pen, snap it on, select the heat level to suit your taste, draw at your leisure and then? Close your eyes and enjoy. Inhale 4 times for 1-2 seconds. Then pause. Remains even after vaporizing for a while as a very pleasant taste in the mouth. Wonderful. Shake gently before use. Store in a dry, cool place away from light. Be careful that no passers-by vaporize the cartridges away from you or hide enough spare cartridges in the haute couture.
What a collection:
our bestsellers
FAQs
Wie häufig kann ich an einem vaay CBD-Pen ziehen?

Unsere Empfehlung: 4 x ziehen, dann Pause machen und nicht mehr als 20 x ziehen am Tag. Das Schöne daran: Dieses Ritual lässt sich immer und überall unterbringen, was gut dazu passt, dass dein vaay-Vape-Pen auch immer und überall unterzubringen ist. Sogar in der Bowlingkugeltasche unserer Vermieterin (wir haben es ausprobiert).
Kann der CBD-Pen wiederbefüllt werden?

Ja, unsere neue Serie von CBD-Pens ist wiederverwendbar. Du musst einfach nur die Kartusche wechseln.
Kann ich die Vape Pens an eine Packstation bestellen?

Nein, Vape Pens können nicht an Packstationen bestellt werden, da eine Altersabfrage von DHL stattfindet. Daher muss bitte immer die Hausanschrift angegeben werden.
Ist der Versand von Vape Pens nach Österreich erlaubt?

Der Versand unserer Vape Pens nach Österreich ist nicht erlaubt (Nichtraucherschutzgesetz).
Wann erhalte ich die Gutschrift meiner vaay-Club Punkte?

vaay-Club-Punkte werden 14 Tage nach Kauf gutgeschrieben.