unwind
CBD MASSAGE OIL | Ginger & Jojoba | 200 mg
Sale price

€19,90

Regular price

(€19,90/100ml)

Incl. VAT
This massage oil is a kind of portable Om. For example, for inner center, deep relaxation and breathing, so that you can drive out a bit of the mundane from your everyday life. So if you don't have avocado toast or a desert island at hand, you can also regenerate with vaay. And if there's no one around to do the massaging for you, you can easily do it yourself. And without any chemicals or mumbo jumbo. Now is the moment to applaud.
Ingredients

Jojoba oil, almond oil, ginger extract, hemp extract.
Notes

Store in a cool, dry place away from light | For external use only | Do not apply oil to mucous membranes and damaged skin | Keep out of reach of children | Do not use during pregnancy and lactation | For adults only (sorry, dear children)
Laboratory analyses & certificates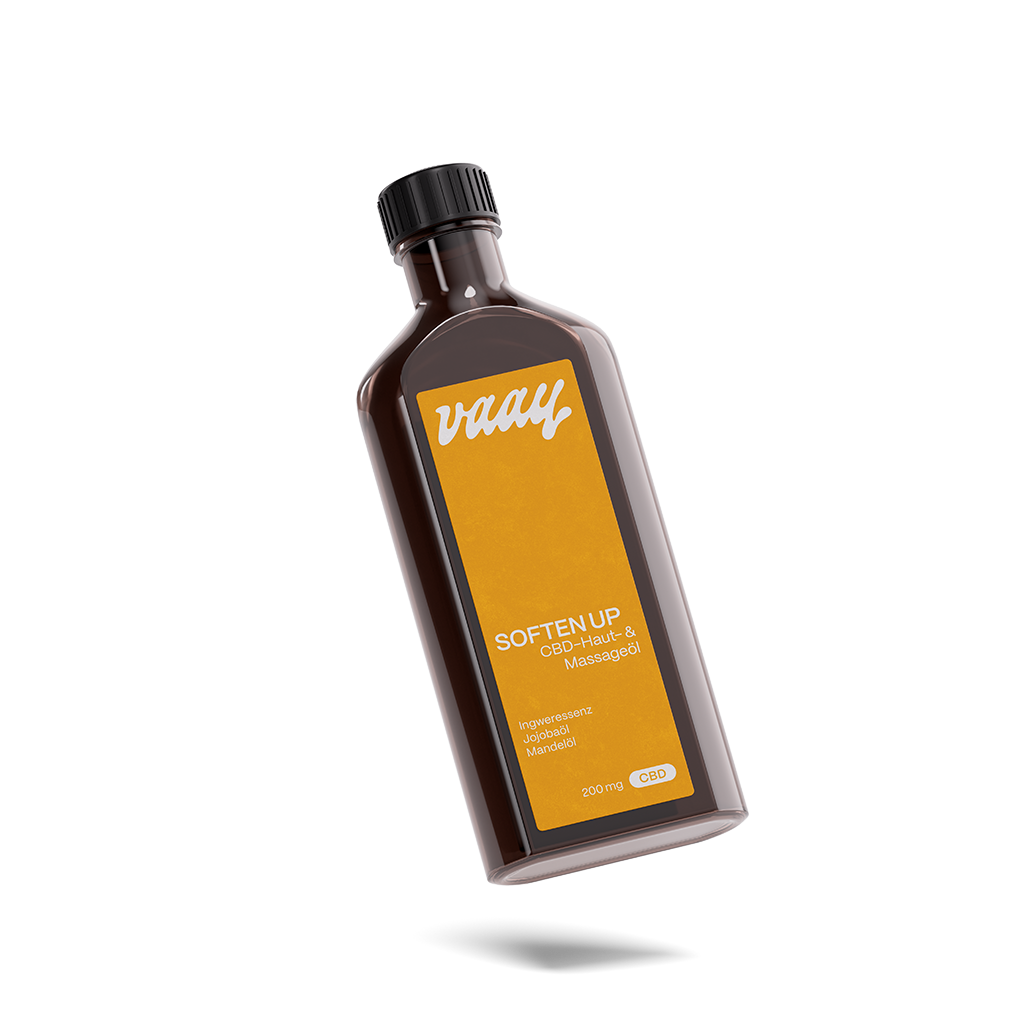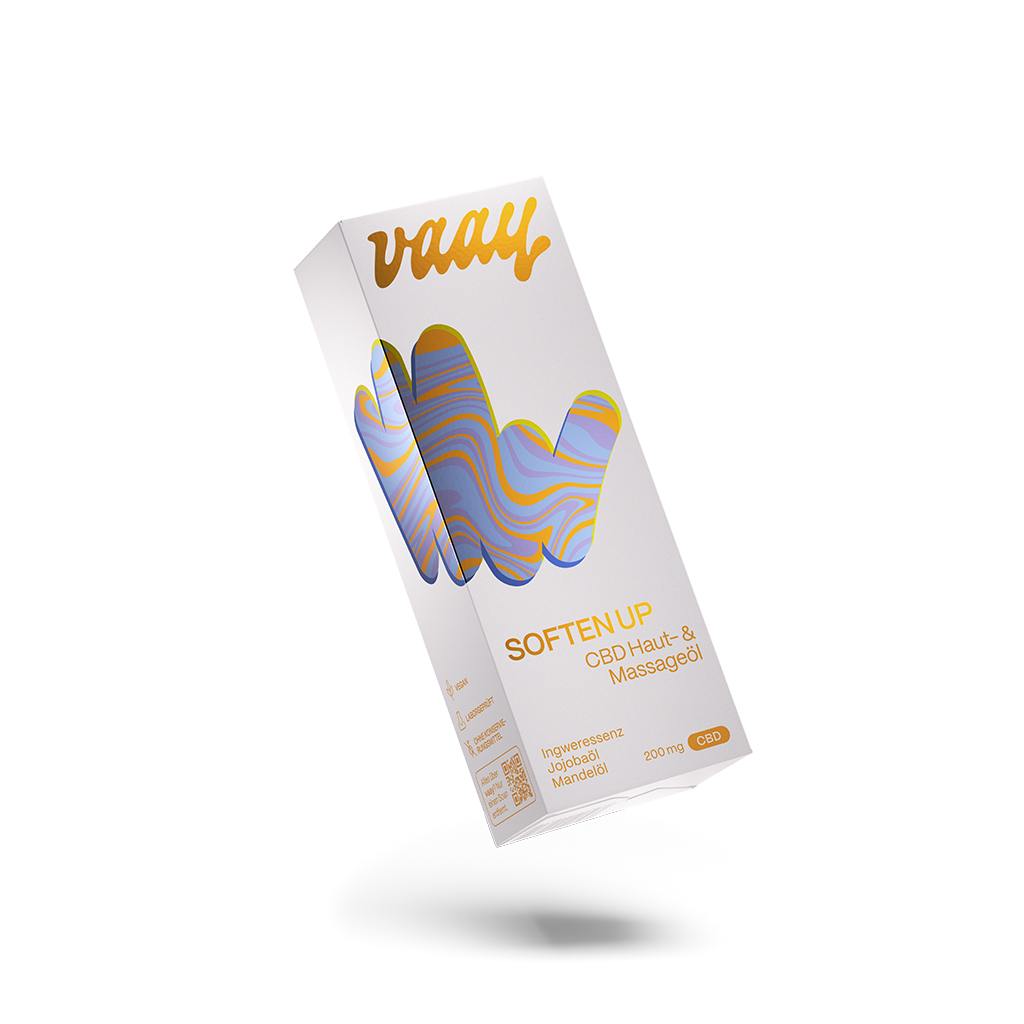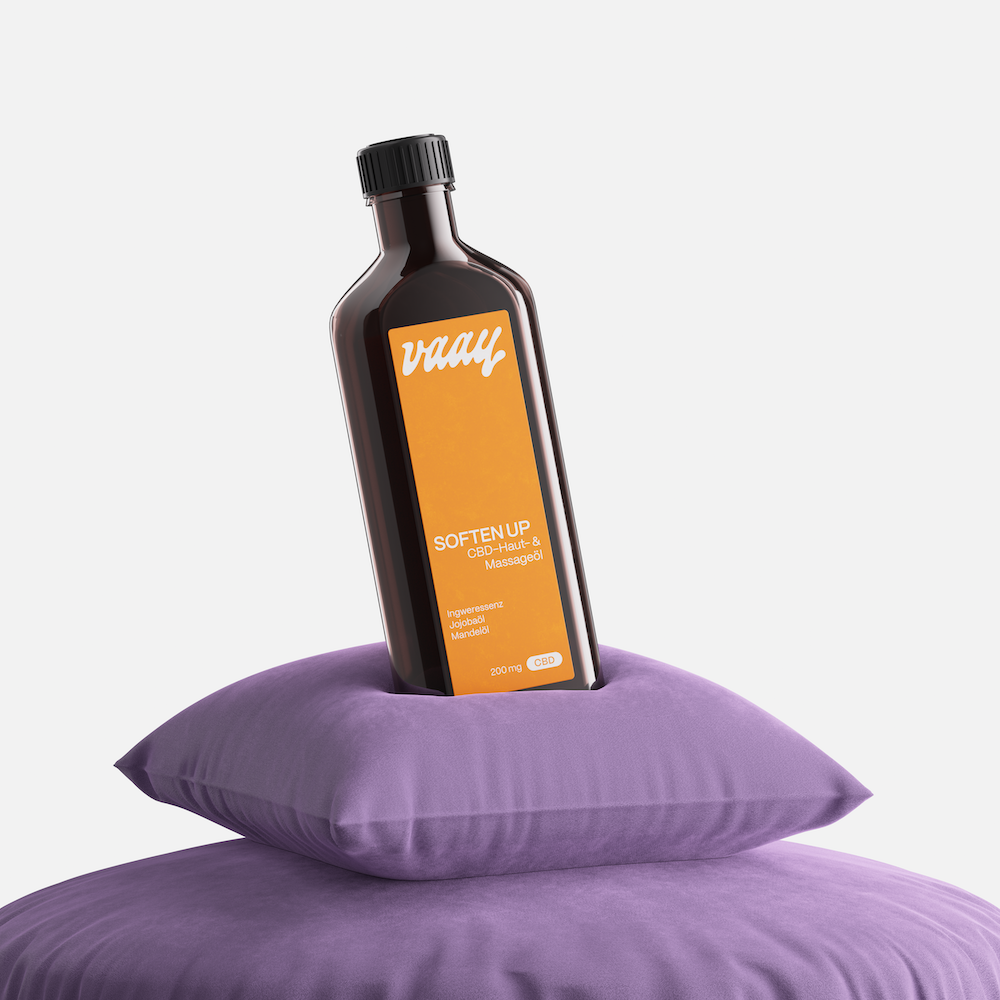 lab tested
all products are tested
no additives
only natural ingredients
What and for whom is the massage oil?
What and for whom is the massage oil?
Some will have guessed from the name, in our massage oil we are dealing with a most excellent massage oil. Inside are jojoba and almond oil, of course, much better known under their pen name Super Oils. Plus a whole 200 mg of the finest natural CBD. And warming ginger essence. What's not in it: parabens, artificial fragrances and other nonsense that no one needs (that would be even nicer). And what does it all bring? Pure detoxing of course, nourishing care, a supple and smooth skin. Feels good to have done everything right, right? And for whom this is something? Everyone who loves massages. Everyone who enjoys massages. Everyone who massages. Everyone who thinks a massage could do them good. All who would like to do something good for another person with a massage and are still looking for a brilliant massage oil.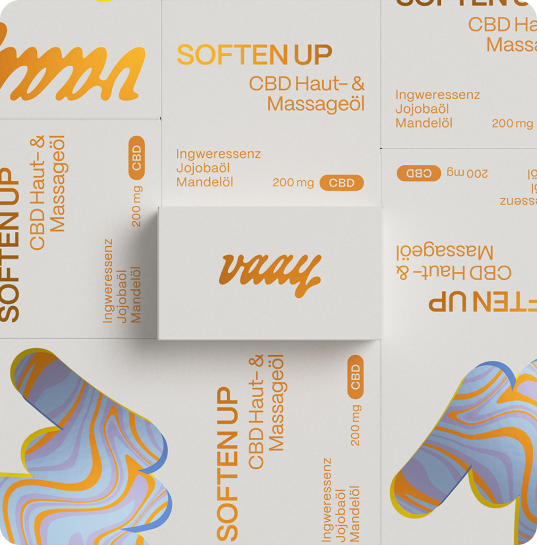 How do I apply it?
How do I apply it?
You take a tired body, for example yours, and massage the massage oil into the skin once or twice a day (or as needed) with light circular movements. Or let it massage in. If you have a choice, always use the latter option.
What a collection:
our bestsellers
FAQs
What is a CBD massage?

A CBD massage is a massage with a CBD oil that nourishes the skin like a lotion during the massage. It feels like a short vacation, only without the sand in your shoes, the cell phone-stealing seagulls, and the sunburn.
Can CBD massage oil be used in the intimate area?

When tested for skin compatibility, our CBD massage oil received a much acclaimed very good. However, it was tested on normal skin. Not on mucous membranes. Because our oil does not contain any allergens, however, we do not see any great danger of undesirable skin reactions there either. Just try it with a small amount. Oh and please be careful with latex condoms. They can become permeable through the oil.