activate
Vape Pen Cartridge | SUPER LEMON HAZE
Sale price

€19,90

Regular price

Incl. VAT
Why vaporize Super Lemon Haze? If you're asking, we're boldly guessing you haven't tried it yet. Otherwise, you'd probably be hopping from one foot to the other shouting "This is it." Or something similar, of course. And you'd be absolutely right, of course. After all, Super Lemon Haze is pure nature. The best of the best. And so, in the company of the best of the best, things sometimes happen that you wouldn't dare dream of. For example, praise from your team leader or the jump from the ten that has been lurking on your bucket list for so long.
Ingredients

Cannabinoids and terpenes
Notes

Shake gently before use | Store in a dry place, cool and protected from light | Not suitable for children and adolescents | Harmful to aquatic organisms, with long-term effects | Avoid release to the environment | IF ON SKIN: Wash off with plenty of water | In case of skin irritation or rash: seek medical advice | Dispose of contents/container according to local waste regulations | May cause allergic skin reactions | Do not exceed the maximum number of puffs indicated (20 per day) | Contents are sufficient for approx. 200 puffs | If used improperly, taste may be affected and number of puffs may be reduced | Belongs in any standard handbag, trouser pocket or coat pocket
Laboratory analyses & certificates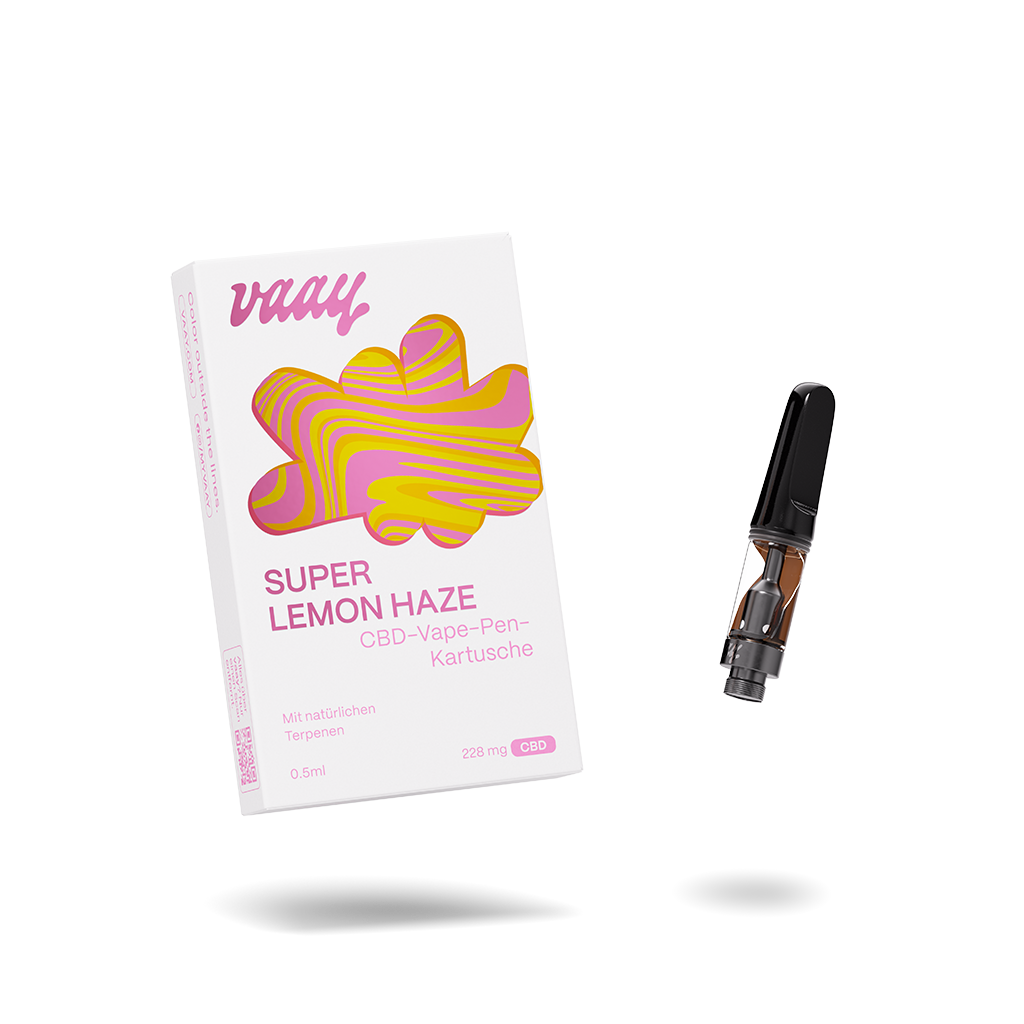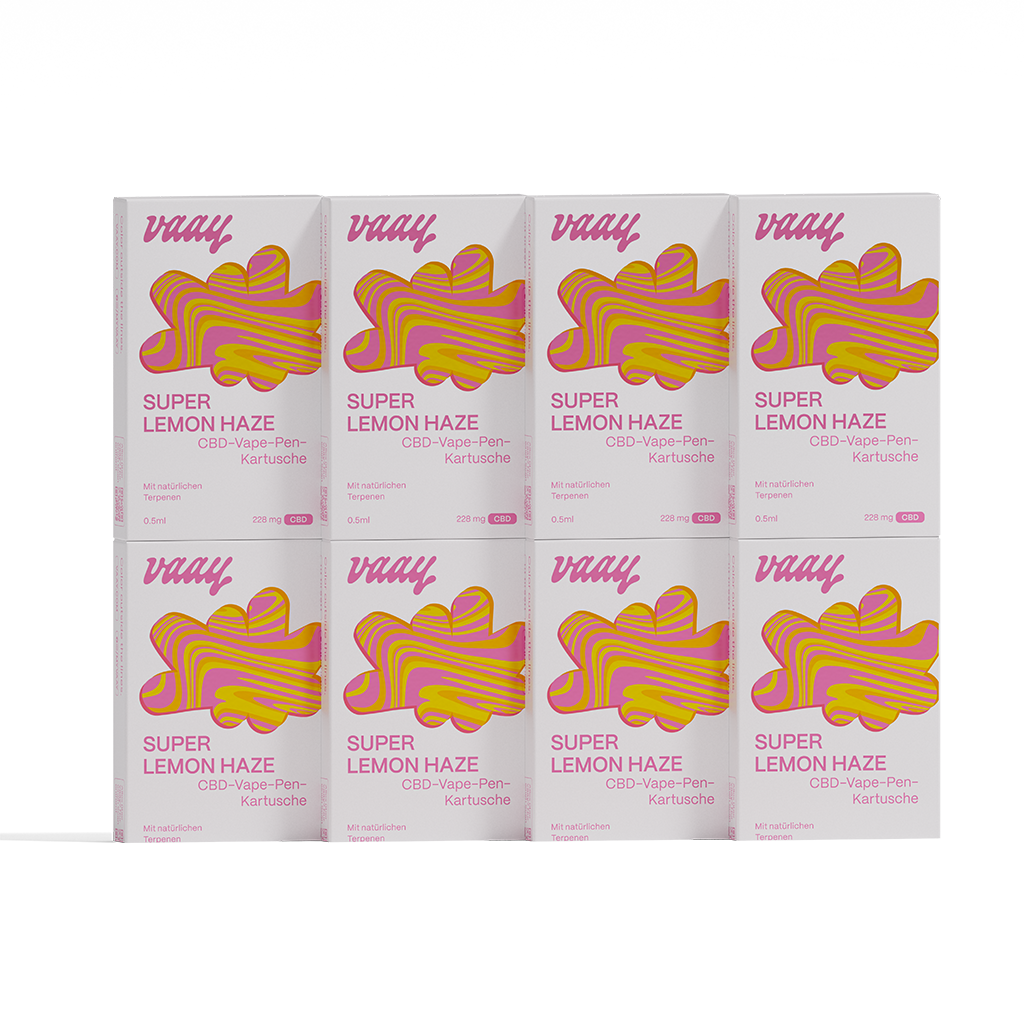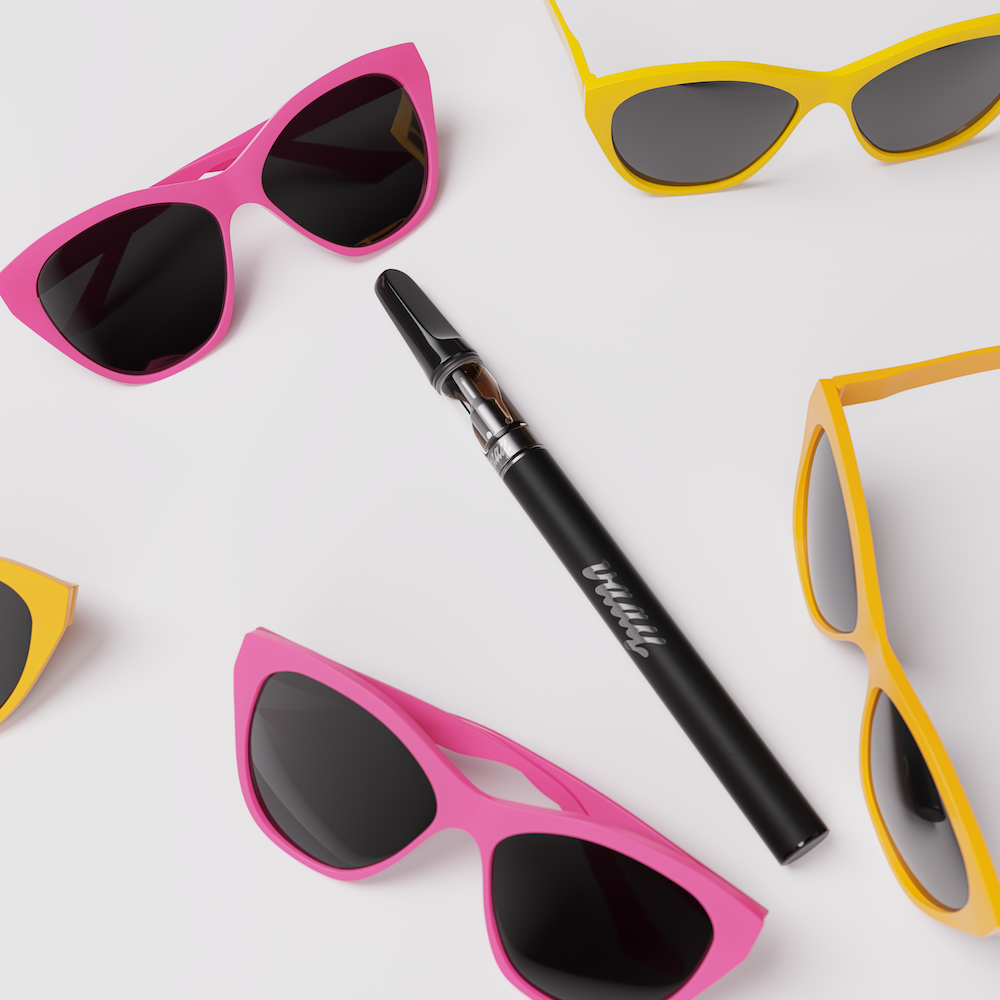 lab tested
all products are tested
no additives
only natural ingredients
What and for whom is Superlemon Haze?
What and for whom is Superlemon Haze?
The world is chaotic, dramatic and unpredictable. To make you feel as comfortable as a gecko in the afternoon sun in this deliciously bubbling soup, there's the Super Lemon Haze Vape Minutes. The intense fruity-lime flavor with the earthy undertones goes great against all that hubbub and sometimes the earth's gravitational pull. You'll even be ahead of the geckos with this one. Super Lemon Haze is for those who don't like tobacco. For all those who don't smoke at all. For all those who like to watch the daily news and for all those who don't like to watch the daily news. Here's another tip: From Just do it to I did it is sometimes only a vapor away.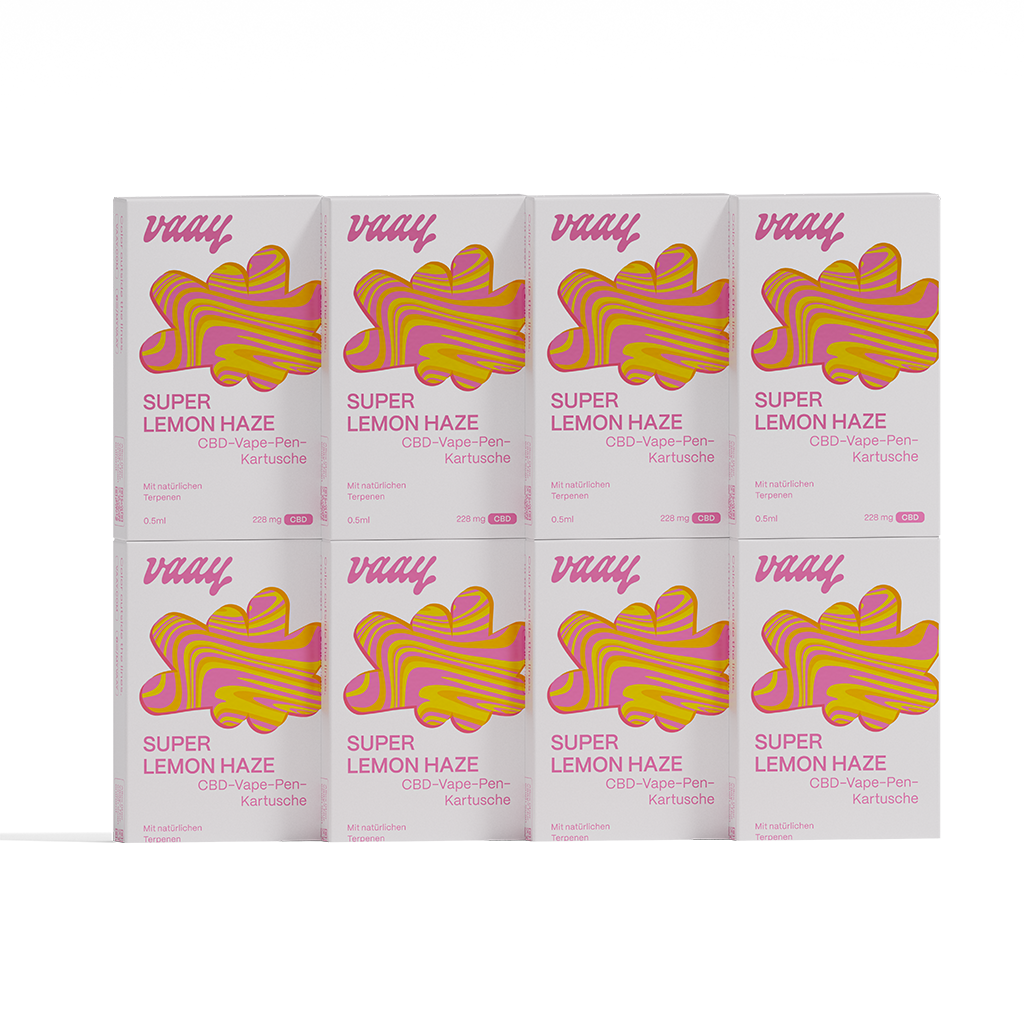 How do I use it?
How do I use it?
Simply unscrew the cartridge, switch it on, select the heat level to suit your taste, take a leisurely drag and then? Close your eyes (unless you are in a who-must-not-blink contest, in which case please keep your eyes open) and enjoy. Inhale 4 times for 1-2 seconds. Then pause. No more than 20 puffs per day. Stays in mouth for a while after vaping as a very pleasant taste. Wonderful.
What a collection:
our bestsellers
FAQs
Wie häufig kann ich an einem vaay CBD-Pen ziehen?

Unsere Empfehlung: 4 x ziehen, dann Pause machen und nicht mehr als 20 x ziehen am Tag. Das wären dann also die 5 Pausen pro Tag, die dir dein CBD-Pen-Genuss schenkt und nochmal 5 Pausen, die du vom CBD-Genuss machst und wenn du z. B. einfach so noch weitere 5 Pausen hinzufügst, hast du 15 Pausen am Tag. Das haben sonst eigentlich nur Königinnen und Tennisspieler.
Kann der CBD-Pen wiederbefüllt werden?

Ja, unsere neue Serie von CBD-Pens ist wiederverwendbar. Du musst einfach nur die Kartusche wechseln.
Kann ich die Vape Pens an eine Packstation bestellen?

Nein, Vape Pens können nicht an Packstationen bestellt werden, da eine Altersabfrage von DHL stattfindet. Daher muss bitte immer die Hausanschrift angegeben werden.
Ist der Versand von Vape Pens nach Österreich erlaubt?

Der Versand unserer Vape Pens nach Österreich ist nicht erlaubt (Nichtraucherschutzgesetz).
Wann erhalte ich die Gutschrift meiner vaay-Club Punkte?

vaay-Club-Punkte werden 14 Tage nach Kauf gutgeschrieben.